Rutronik GT64 Terminal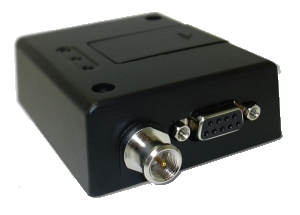 The programmable GSM/GPRS Quad Band Terminal with I/O's and RS232 port The GT64 Terminal is a self contained and programmable unit featuring the latest GSM / GPRS technology from Wavecom. Since the GT64 Terminal is mainly mechanical and electrical compatible to the Sony Ericsson GT47 GSM/GPRS Terminal, the GT64 Terminal can be seen as a very powerful successor for today's users of GT64. GT64 Terminal is the excellent product for system integrators who focus on application development by using a programmable GPRS-modem with I/O-functionality and standard connectors.
Key Features:
Programmable (M2Mpower)
RS232 serial port
5 digital inputs
1 digital output
Quad Band
GPRS Class 10
TCP/IP stack
SMS and CSD
5-36 V DC supply
-30°C to +75°C
CE approval
FCC approval
E-Marking
oHS compliant
3 Status LEDs
SIM card holder
Ideal for today's GT47 users
M2Mpower development tools available
Software
Auron SMS Server is a Windows-based software package that enables you to send, receive and process SMS and e-mail messages. Supported communication protocols: GSM, HTTP, SMPP, SMTP, POP3. Incoming messages are processed by 'triggers', and can be fully customized.
It's a framework for any scenario where one/two-way SMS is required. Create a voting/polling system, send out mass SMS broadcasts, create a reservation system, etc.. Real-life case-studies are included as sample projects.