Ovation MC950D HSDPA HSUPA UMTS USB Modem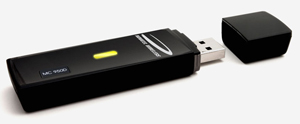 The Ovation MC950D USB Modem is an HSDPA/HSUPA Mobile Broadband device using the Qualcomm MSM7200 chipset. This global tri-band HSDPA/UMTS and quad band EDGE/GPRS modem is packaged inside one of the smallest form factors currently available. The MC950D provides a full Mobile Broadband experience, with download rates of 7.2 Mbps and upload speeds of up to 2.1Mbps.
Pack light with Ovation!
The MC950D is a patent-pending mobile broadband USB modems optimized for Europe, Japan, North America and territories around the world which support the 2100 MHz band.
MC950D
Tri-Band 850/1900/2100 MHz HSUPA/HSDPA/UMTS; Quad-Band 850/900/1800/1900 MHz GPRS/EDGE
FAST Wireless Broadband Connectivity
No need for WiFi with this solution. These little guys provide a total mobile internet experience, with download rates of 7.2 Mbps and upload speeds of up to 2.1 Mbps worldwide* making it easier to access the Internet, your corporate network, email, and transfer files, music, pictures, and video from virtually anywhere.
Fun for Everyone
Ovation MC950D is designed to support various platforms, Windows, Mac, and Linux. The USB form factor makes for a truly versatile device, as it is smaller and more widely available than a traditional PCMCIA card.
No wires, no battery, no hassles
With Ovation connectivity is on the fly! Unlike other competing devices, Ovation MC950D doesn't use an external battery. Get connected wherever, whenever, and for as long as you need; not as long as your battery will last. No costly battery replacements, no additional chargers to lug about in your baggage, no unnecessary stress. Ovation is designed to make your life easier, not give you another thing to worry about (or carry around).
Accessories Included:
Driver
Extended USB Cable
Software
Auron SMS Server is a Windows-based software package that enables you to send, receive and process SMS and e-mail messages. Supported communication protocols: GSM, HTTP, SMPP, SMTP, POP3. Incoming messages are processed by 'triggers', and can be fully customized.
It's a framework for any scenario where one/two-way SMS is required. Create a voting/polling system, send out mass SMS broadcasts, create a reservation system, etc.. Real-life case-studies are included as sample projects.