Ovation MC935D 7.2 Mbps Compact HSPA USB Modem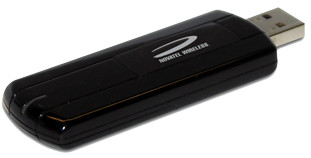 Ovation MC935D HSPA Modem
Ovation MC935D supports the following bands: Single-band HSPA 2100 MHz; Quad-band GPRS/EDGE* 850/900/1800/1900 MHz (Class 12 GPRS/EDGE).
FASTER Wireless Broadband Connectivity Around the World
Ovation MC935D is powered with the Qualcomm Chipset, MSM6290. That means an even faster wireless broadband experience at speeds up to 7.2 Mbps (download) and 5.7 Mbps (upload), making it easier to access the Internet, your corporate network, email, and transfer files, music, pictures, and video from virtually anywhere.
Fun for Everyone!
Ovation MC935D is designed to support various platforms, Windows, Mac, and Linux. The USB form factor makes for a truly versatile device, as it is smaller and more widely available than a traditional PCMCIA card. At only 36 grams and a thickness of just 1 centimeter, this super slim device packs big performance and is ultra portable.
Cut back on Interruptions
Outfitted with NovaSpeed software technology, Ovation MC935D delivers an accelerated broadband experience like none other. NovaSpeed boosts performance with enhanced simultaneous upload and download activity, including video streaming with virtually no interruptions or buffering.
Lose the CD
Software, drivers, and user guides are on the device MobiLinkô 3Connection Manager software and drivers for Windows and Mac are included on the device. Connect to the Internet without the need to install drivers from a CD, just plug it in, allow the software and drivers to automatically load and youíre ready! (Activation with a Service Provider is required).
Technical Specifications:
Highspeed Wireless Data with Qualcomm Chipset MSM6290
Peak download speeds to 7.2 Mbps and upload speeds of 5.7 Mpbs for web surfing, email, VPNs, and more. Use in home, office, on the road - virtually anywhere for on the go mobility. Works in countries around the world in supported bands.
Supports Multiple Platforms: Windows Vista, XP, 2000, Mac OS X 10.3.9 or Higher, Linux.
Compact and Sleek Design: Just under three inches, Ovationís glossy finish includes a vanishing LED system that displays connection status when powered.
Feature-rich: NDIS support, intuitive MobiLink 3 and NovaSpeed software, zero-CD installation, low power consumption, lead-free, field-firmware upgradeable.
Accessories Included:
Driver
Extended USB Cable
Software
Auron SMS Server is a Windows-based software package that enables you to send, receive and process SMS and e-mail messages. Supported communication protocols: GSM, HTTP, SMPP, SMTP, POP3. Incoming messages are processed by 'triggers', and can be fully customized.
It's a framework for any scenario where one/two-way SMS is required. Create a voting/polling system, send out mass SMS broadcasts, create a reservation system, etc.. Real-life case-studies are included as sample projects.