iTegno 3800 GPRS Modem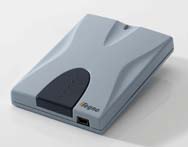 The iTegno 3800 GPRS Modem is specially designed for corporate and industrial usage. Supporting GSM/GPRS networks, iTegno 3800 offers wireless data connectivity to mobile professionals and can be deployed in various Machine-to-Machine (M2M) applications. The iTegno 3800 modem is compatible with Windows 98 SE/ 2000/ ME/ XP and Vista Operating Systems. Drivers for Linux and Macintosh OS are also available for development purposes.

The iTegno GPRS modem is designed specifically for corporate and industrial usage. This modem is ideal for any applications of mobile communication where it is necessary to integrate the GSM / GPRS communication in a professional and reliable way. This durable and high performing modem can be deployed in myriad Machine-to-Machine (M2M) applications including automotive systems, fleet management, automated meter reading, vending & retail, security & surveillance, industrial systems, information display, etc.
Key features and benefits:
Multiple Interface Options - Designed with a broad range of interface options to provide seamless connectivity for any M2M applications.
Versatile Deployment - Can be used in a wide and diverse range of applications.
Enhanced Reliability - External antenna improves sensitivity and aids flexibility installation for industrial applications in remote areas.
General Features:
Small size : 94.2 x 66.0 x 14.5 mm Weight: 58 grams
Quad-band (GSM850 / EGSM900 / DCS1800 / PCS1900)
Stable and high data transmission speeds of up to 85.6 kbps
Available in different interfaces to suit different applications
Software
Auron SMS Server is a Windows-based software package that enables you to send, receive and process SMS and e-mail messages. Supported communication protocols: GSM, HTTP, SMPP, SMTP, POP3. Incoming messages are processed by 'triggers', and can be fully customized.
It's a framework for any scenario where one/two-way SMS is required. Create a voting/polling system, send out mass SMS broadcasts, create a reservation system, etc.. Real-life case-studies are included as sample projects.